Client – Camster Herbs
Solar Photovoltaics / Carbon Footprint Assessment / SECR / PAS 2060 / Carbon Offsets
System Size – 260 KWp
Generation Per Annum – 243,100 KWh
Expected Payback Period – 4 Years
Carbon Savings – 1,293 Tonnes over 20 Years
Producers and importers of dried herbs, spices, vegetables and fruit. Specialising in the growing of parsley and other English Herbs, while maintaining extensive stocks of a very broad range of imported goods. in 2020 Energy Gain UK Ltd installed 260kW of Solar to reduce their growing costs.
"I am writing to recommend energy gain for their professional attitude and service in the supply and installation of our 260KW PV Cell system.
Craig, John and the guys were knowledgeable, friendly, professional and helpful throughout, and the project was delivered on time and as described.
Should you need any further information please feel free to contact me."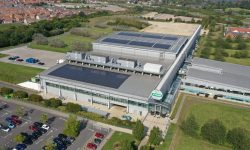 503kWp Solar Photovoltaics
260 KWp Solar Photovoltaics