University of Chester 4 KWp
Client – University of Chester
Solar Photovoltaics 
System Size – 4 KWp
Generation Per Annum – 3,280 KWh
Expected Payback Period – 4 Years
Carbon Savings – 15 Tonnes over 20 Years
The newly installed PV panels have been donated by Energy Gain UK. The solar energy equipment supplier recently completed a 4kW south facing Solar Edge panel installation. It is now fully optimised and will form part of the Energy Centre's ongoing research into solar energy technologies, connecting to the Energy Centre's pioneering microgrid.
The Energy Centre at Thornton Science Park provides a flexible place where industry and academia come together to innovate, develop and demonstrate new energy technologies connecting to a microgrid with 1,000m2 indoor and external test areas available. 
The microgrid currently comprises of the following electrical units in addition to the Energy Gain solar panels:
45 kVA diesel generator
300 kVA load bank
25kW(e) Arensis E3 CHP
10kW redT flow machine.
 All are connected to advanced ABB supervisory control.
The aim of the Centre is to promote growth and acceleration in the development and exploitation of new technologies for the energy market and it is available for use by SMEs to connect to as tenants on a short or long term basis. The test zone is extremely versatile, allowing tenants to work in and connect to an individual bay; through to full use of all the microgrid equipment listed above.     
"Our thanks go to Energy Gain UK for their donation of the unit. The solar plant itself provides a wonderful platform for research and development, and learning. The company's support in our ambition for Thornton and the Energy Centre is another example of how the University of Chester is working with industry to allow business innovation and development to happen."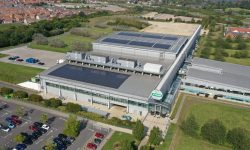 503kWp Solar Photovoltaics
260 KWp Solar Photovoltaics