Mi Vehicle Integration
268 KWp
Client – Mi Vehicle Integration
Solar Photovoltaics / Carbon Footprint Assessment / SECR / PAS 2060 / Carbon Offsets
System Size – 268 KWp
Generation Per Annum – 211,720 KWh
Expected Payback Period – 4 Years
Carbon Savings – 1,225 Tonnes over 20 Years
Founded in 2007, Mi Vehicle Integration has grown to become a large-scale, specialist subcontractor meeting the vehicle assembly, fabrication and inspection demands for both major manufacturers and government agencies. Part of their business contingency plan was to address the high operating costs associated with the 'must run' machinery in their assembly line.  
A flat roof 268 kWp solar photovoltaic system was decided upon. The whole project was executed within a 5-week period with no additional costs. The system is now forecasted to generate 211,720 kWh of clean, green electricity each year. This will save the business approximately £31,000 in year 1 and over £1m throughout the lifecycle of the system.  
As Mi Vehicle Integration is a large supplier to government contracts, it is highly important to them that they can keep up with the Greening Government Commitments that demand more sustainable procurement measures. Over its lifetime the system will reduce their footprint by 1,255 tonnes CO2. This will not only provide new marketing opportunities but will also help ensure business continuity by allowing them to stand apart in the tender process and gain access to new contracts.  
"It is with every credit to the team at Energy Gain Ltd that we now have a fully functional 268kWp PV Solar array as the result of an exceptionally well designed and managed installation project.
From concept through to final commissioning, communication, workmanship and attention to detail – all have been worthy of recognition and I will have no hesitation in recommending this company to future clients.
From a practical viewpoint, even with detailed risk assessments put in place, property and facilities managers like myself have always got an underlying element of concern when we have contractors working at height and on high power electrical installations. Within the first few days of the installation team being resident on site, it became apparent that any such concerns would be unfounded – with all of their staff adhering to both our site, and their own safety rules, in an extremely professional manner, (and all that against the backdrop of the challenges of the extremities of 'summer weather' and the Covid 19 pandemic situation).
Moving ahead, I am looking forward to a continuing relationship with this Company and hoping that the 'phase 2' installation for our site will not be too far away. "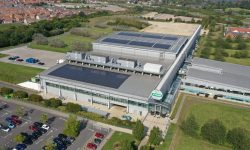 503kWp Solar Photovoltaics
260 KWp Solar Photovoltaics