Client – Gandtrack
Solar Photovoltaics / Carbon Footprint Assessment / SECR / PAS 2060 / Carbon Offsets
System Size – 50 KWp
Generation Per Annum – 42,500 KWh
Expected Payback Period – 4 Years
Carbon Savings – 226 Tonnes over 20 Years
Our solar photovoltaic installation has been for Oldham based Gandtrack who are market leaders in the design & manufacture of specialist cutting tools for the aerospace & associated industries.
The manufacturing site consumes 187,229 KWh of electricity annually, during daylight hours so Gandtrack were keen to reduce their reliance on grid electricity and reduce their electricity costs.
Craig Jones of Energy Gain UK recommended the installation of a 50 KWp solar photovoltaic system to generate approx. 42,500 KWh per annum. This works out at approx. 23% of total usage.
"Energy Gain left me in no doubt they were the right company to provide and install our solar energy needs." He went on to say "They provided all the technical information simply and clearly for all involved to fully understand and progress."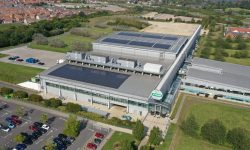 503kWp Solar Photovoltaics
260 KWp Solar Photovoltaics
Let's discuss your next project