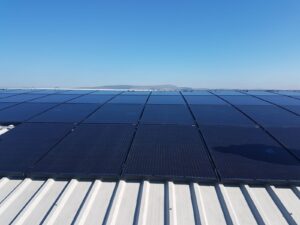 Burnley brewery, Moorhouse's, not only benefitted greatly from the recent UK heatwave of 2018 thanks to the timely installation of solar panels on the roof of its brewery, the project also led to Energy Gain UK to receive a commended  award in the category of small scale project at the North West Energy Efficiency Awards.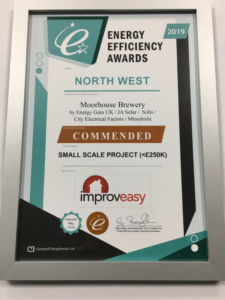 The exceptionally good weather in 2018, which helped break all previous solar-power generation records, has been welcomed by the Lancashire brewery as it has assisted in powering the brewery's site which is known for producing quality cask ales, craft beers and innovative small batch brews.
The 50 KWp Solar system installed by Energy Gain UK Ltd will produce approx. 42,000 units of electricity per annum and 840,000 units of electricity over the next 20 years.   This is the equivalent of powering 247 homes for 1 year.  The solar panels will off set over 407,000 kg of CO2 over the next 20 years.  This is the equivalent of planting 1356 trees.
Moorhouse's MD, Lee Williams, commented "It's important for us to be an environmentally friendly company so the installation of these solar panels has been something that we've had planned. What we didn't and couldn't have planned for was the recent UK heatwave and the effect it would have. In that regard, we couldn't have done it at a better time. We've seen the instantly noticeable impact of solar power and would encourage more companies to take this route too."
For more information on Moorhouse's Brewery visit here  
If you would like to see what the solar potential is for your premises give us a call on 0161 330 7739
Or leave your details on the form above and we will get in touch with you.
Moorhouse's is an independent Lancashire brewery, established in 1865 by William Moorhouse, a Burnley man who took great pride in his town and his craft. He built his own brewery premises in 1870, and nearly 150 years later, Moorhouse's is still on the same historic site, in the shadow of Lancashire's famed Pendle Hill. With almost five million pints sold each year, Moorhouse's is a must-have for all North and North West bars and pubs.
Today, Moorhouse's is privately owned by the Parkinson family and it supplies its beer direct to over 500 Free Trade bars in the north plus a number of larger retail chains and through the wholesaler network. It runs two pubs, The Pendle Witch in Atherton and The Rising Sun in Blacko and its bottled beers are stocked in selected supermarkets and off-licence shops.