Reduce Your Energy Bills – Produce Hot Water Using A Solar Heat Assisted Pump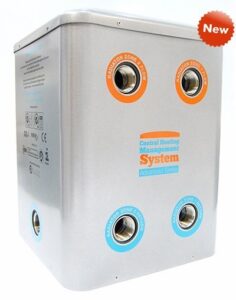 We are delighted to announce the arrival of our latest energy reduction product. The Magic Thermodynamic Box is a 'Solar Assisted Heat Pump' that supplies hot water to a water cylinder night and day, 365 days a year, no matter what the weather. Easy to fit to existing water heating cylinder it comprises a Little Magic Box and an External Thermodynamic Panel that can be connected to an existing pressurised or vented cylinder
Chosen by Channel 4's Kevin Mcloud as one of his "Green Hero's" the magic Thermodynamic Box:
Generates hot water in all weathers
Works day and night 365 day s a year.
Heats water to 55°C
Panel can be mounted on external walls or roof
Can be retrospectively fitted to existing cylinder
Compatible with both vented and unvented systems
Panels can be mounted on external walls or roof
Tested, proven technology
Minimum maintenance required
Significantly reduces carbon emissions
5 year manufacturers guarantee
Positioning
The Thermodynamic Panel is made of aluminium and is normally fitted to an external wall. Any aspect is suitable. It can be in portrait or landscape orientation.
The Little Magic Box is "microwaved sized" and is positioned as close as possible to the existing water cylinder. It is connected by teeing into the hot and cold water flows.
To find out more about how it works and to take a look at some case studies click here
Craig Jones BSc (Hons) MSc Technical Director
E: sales@energygain.co.uk                T: 0845 609 9323