Client – Brooks Ltd
Solar Photovoltaics / Low Energy Lighting
System Size – 250 KWp
Generation Per Annum – 195,000 KWh
Expected Payback Period – 2 Years
Carbon Savings – 980 Tonnes over 20 Years
Brooks was founded in 1973 by Michael Whitham initially trading in small pitch roller chains.
The business expanded quickly and within a short period of time an office and warehousing unit was purchased in Stockport, England.
This also prompted the arrival of the company's first two employees and the naming of the business as V. R. Brooks (Stockport) Ltd.
Further expansion lead to the manufacture of bespoke gears and a second business, Stockport Gears Supplies Ltd, was formed.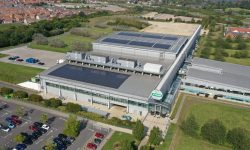 503kWp Solar Photovoltaics
260 KWp Solar Photovoltaics