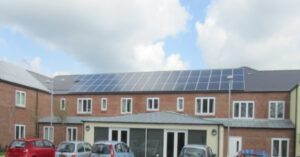 Generate Free Electricity and a Tax Free Income
Is Your Property Suitable For Solar Panels And The Great Benefits They Bring?
Maximise Your Energy Savings – Choose Solar Panels For Some Great Benefits
Generate your own electricity
Receive a tax free payment for every unit of electricity you generate
Earn extra for any electricity you don't use.
Reduce your reliance on mains electricity
100% Government backed – payments guaranteed for 20 years
Solar panels can help significantly reduce the amount of 'grid energy' required by your home, safeguarding you against future price increases.
Is My Property Suitable For Solar Panels?
Most homes and commercial properties are suitable for the installation of solar photovoltaic (PV) systems. As our systems cover a wide range of roof types and property types, we are very likely to find a solution that is right for you.
Does Your Roof Face The Sun?
It is best if your roof is South facing, but East and West facing properties can also benefit from our split systems which makes the most of the sun from either direction.
Is The Chosen Area Shaded?
If other buildings, trees or chimney stacks cast shadows on your roof, it may not be appropriate to install solar panels on your roof. However, solar PV panels may be installed directly on property walls, so your premises may still be suitable for a solar installation.
Does Your Roof Have The Right Pitch?
Most homes in the UK tend to have a roof pitch of around 30 – 50 degrees. If your roof falls above or below this figure, you may still be able to install a solar PV panel to your wall or a flat roof.
Is The Roof Structurally Sound?
During our site survey, we will inspect your roof to ensure it is structurally capable of holding the load of the solar panels safely and securely. Most are more than capable.
Are There Any Obstructions?
If you have roof windows, vents, or chimneys in the area that your solar panels need fitting, these may need relocating if possible, otherwise they may prevent the install from going ahead.
Having asked the question "Is my property suitable for solar panels" you have decide it is then all you need to do is find out how much you could save. Simply complete the above from and we will be in touch.
Energy Gain UK are solar panel installers who have been installing a range of renewable energy systems including solar panels in homes and workplaces for over 9 years. Over this time we have built up an impressive client list and achieved numerous accreditations.
We are accredited by:

We are an accredited member of HIES.
To find out what HIES accreditation means for you watch the short video below
We are trusted suppliers to:
Fully Insured
We also ensure all products selected come with warranties and offer our own workmanship guarantees.