Free Business Guide To Saving Energy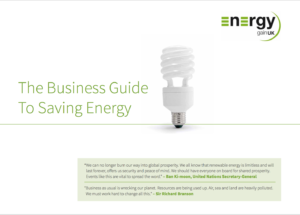 Most businesses could use a lot less energy. Experience shows that even low and no-cost actions can usually reduce energy costs by at least 10% and produce quick returns. Going that little bit further, a 20% cut in energy costs represents the same bottom line benefit as a 5% increase in sales in many businesses.
This guide helps you identify measures where energy and cost savings can be easily made with little or no cost.
Lighting
Lighting a typical office overnight wastes enough energy to heat water for 1,000 cups of tea.
Lighting in a typical office costs about £3/m2 annually, but in the most efficient office only costs about £1/m2
Heating
Heating is a key area where energy savings can be made as many business have unoccupied areas where they could easily reduce energy costs and save money.
Heating costs rise by about 8% for every 1°C of overheating.
In the Office
A computer and flatscreen monitor left on 24 hours a day will cost around £50 a year. Switching them off out of hours and enabling standby features could reduce this to less than £15 a year and prolong the lifespan of equipment.
For more information request a copy of our free guide.
For helpful advice and support about your renewable energy project, contact Energy Gain UK on: 0345 609 9323
Energy Gain UK
Energy House
47 Boodle Street
Ashton-Under-Lyne
OL6 8NF
Tel: 0345 609 9323
Tel: +44 (0)345 609 9323
Tel: 0161 330 7739
Fax: +44 (0)161 343 5003
email: sales@energygain.co.uk